BTEC Higher Nationals Annual Student Survey - 2018
At Pearson, the student is always at the heart of what we do which is why we take time to invite their opinion. Each April we ask students to complete a survey so we can learn more about their experience on Pearson's BTEC Higher National qualifications. 
We use the feedback to inform the future design of our qualifications and to support the development of resources for Pearson BTEC Higher National students around the world. 
Find out what students said in the latest survey by downloading the BTEC Higher National Student Survey report below.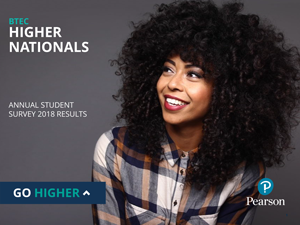 Bespoke reports for centres
The survey results give Pearson and our approved centres a global perspective of student opinion. We also offer bespoke reports to our approved centres which focus on their students' opinion of programmes. 
For a centre to be eligible to receive a bespoke report, at least eight students need to complete the survey. The more students complete the survey, the more informative the report. We release both the overview report as well as bespoke centre reports each July.
To help encourage students to complete the survey, we offer participants Amazon vouchers to the equivalent value of £750 as prizes. In 2018 six students received prizes of between £500 and £50. 
You can download a sample report here and if you're interested in finding out more, contact us at hnqa@pearson.com
Feedback on our student survey
We're always interested in feedback about the survey itself so you have any please email us at hnqa@pearson.com